Tenborg Technologies brings over 30 years experience to the wire harness industry.
Since Tenborg Technologies LLC was founded, we have and continue to supply the wire harness industry with high precision wire and cable processing equipment. With our knowledge in the industry, we pride ourselves on providing outstanding service and technical support for all our customer's needs.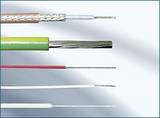 Tenborg Technologies LLC works closely with the Telecommunications and Electronics industry. Especially with coaxial cable stripping machines and other products. We have been servicing these products since their inception and continue to do so today. Tenborg Technologies LLC has recently earned a distributorship with Nitronic AG.
Nitronic has recently released new coaxial cable processing equipment which includes the ST730 & ST730T
Tenborg Technologies also Represents the complete line of Carpenter wire and cable processing equipment as well as Mecal by Starn Crimping presses and applicators, Feintechnik Rittmeyer wire processing equipment.
Thank you for visiting our website. If you have any questions or would like any further information. Please contact us
Sincerely,
Ken Tenborg | President
---
Ph: (949) 678-0128
email: [email protected]
Sales & Product Inquiries
Service & Technical Inquiries